Patients and their families face increasing challenges in paying for their health care and health care insurance, and these financial stresses will increase in the future.    
MPPA is working to create and support a Minnesota health care marketplace to enhance real consumer choices and protections. MPPA believes that patients and their families, rather than health plans or state or federal government, should control where money is going to pay for health care services. Affordability is a big concern for most Minnesotans,  but there is little useful prospective cost information about a person's medical care and medications or ways to compare these costs. How can consumers go "shopping" for the best value for their personal health care services or insurance coverage when they don't know what a medication, doctor visit, or insurance policy will cost or details of their benefits?  (See the post from e-patient Dave below).
Regarding medication costs, retails pharmacists are the "gatekeepers" for one's health care insurance medication benefits and required co-payments. So, get them in the loop. Pharmacists can quickly find out what is covered by an enrollee's insurance and what it will cost the patient. Have them swipe your insurance card at the pharmacy before your presciption is written or renewed. Or give them a call.
And, always tell your doctor or treatment team before stopping or reducing the doses of prescribed medications.
Here is a 9/27/11 clip from TV Channel 9.
http://www.myfoxtwincities.com/dpp/health/Dangerous-Rx-Measures-in-Hard-Times-sept-27-2011?CMP=201110_emailshare

 
MPPA wants patients and their families to have much more control of where money for their health care services and insurance protection is going.  We also want state and federal public dollars to be channeled to those patients and families who most need public (taxpayer) financial support.
MPPA believes that a strong and trusting doctor-patient/clinic team-patient relationship is essential to quality and cost-effectiveness health care. This holds true for both private and public clinics and patients on Medicaid or Medicare. Recent studies and surveys confirm that patients need ongoing education about how their doctor gets to his or her care recommedations, and this is too often not done. MPPA believes that collaborative doctor-patient discussions about cost and benefit are vital to quality medical/professional practice.
MPPA is a Minnesota charitable organization founded in 1998 and designated by the IRS as  a 501 (c) 3 corporation. Welcomed financial contributions to MPPA are  exempt from state and local individual income taxes.
The MPPA LISTSERV is a respected online  public forum designed to highlight and discuss needed improvements in Minnesota's health care system. MPPA wants access to affordable health care insurance protection for all Minnesotans, enhanced market-based competition for health care services and insurance protection, transparent provider cost information (service and procedure fees), information on scientifically-based treatments available to all doctors and care teams, patients, and families, and ongoing doctor-patient relationships.
Please send me an email address if you'd like to receive MPPA LISTSERV postings. Direct your comments and postings to me at leebeecher@aol.com.
Politicians, health care companies and government agencies manage patient dis-satisfaction. So, please be that mouse that roars!
Send me your email address if you'd like to receive the MPPA LISTSERV. There are no dues required to belong to MPPA or participate in the LISTSERV.  We do want to hear from you.
Cordially,
Lee H. Beecher, MD
President Minnesota Physician-Patient Alliance (MPPA)
6600 Excelsior Boulevard, Suite 121
Creekside Professional Building
Saint Louis Park, MN 55426-4746
——————————————————
---
Let Patients Help, Cost-Cutting Edition, part 1: a bill.
Posted: 05 Nov 2011
I often hear about how patients are a major part of the cost problem – their "non-compliance," their wanting everything they can get, wanting it for free, etc.  So, let's see what happens when a patient who wants to help cut costs gives it a try.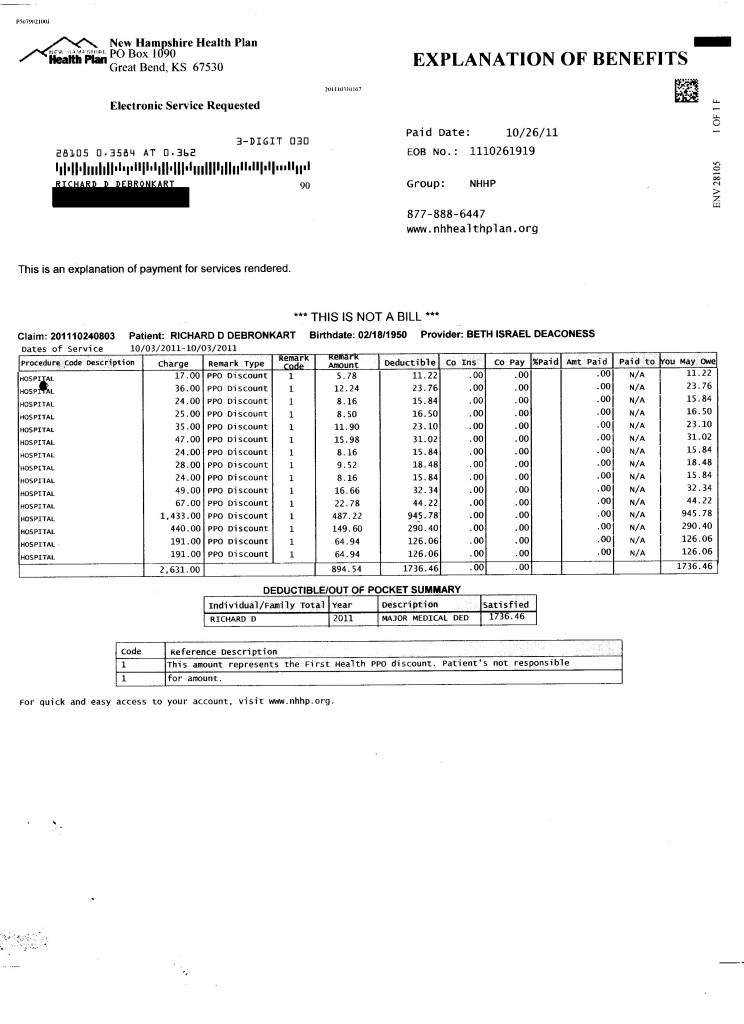 Click to enlarge
I was recently scheduled for a semi-annual test, four years after my treatment ended. I thought, "Hm, could I save costs by getting it somewhere else? Perhaps even find a place with higher quality? Get more for less? That's what consumers like to do." It turns out that information isn't readily available. Next time I'll hunt, but this was in the middle of my busy travel season.
Anyway, the bill just showed up. Actually it's not a bill ("THIS IS NOT A BILL"), it's an "explanation" of benefits. But take a good look at it, folks, and see if this "explanation" helps you answer any of these questions:
What was done to me?
Which line items were mistakenly overcharged, if any?
Which items were listed (and billed) without having actually been done? (That would be insurance fraud.)  The insurance company wasn't there, so I'm in a much better position to audit.
All in all, did I get a good deal, for my $1,736 out-of-pocket co-pay?  And did my insurance company get a good deal?  Because when my $10,000 deductible is used up this year, they start paying.
You'd think they'd want to be auditing this stuff. I'll call 'em Monday, and see what they have to say. (I wonder if they have the information on which providers have the best costs and quality. That would help both of us.)
The accuracy question isn't just academic; in 2009 I blogged at some length about significant errors in my billing records, such as conditions I never had. I'll be glad to help reduce costs, and clean up my medical record, if the information is taken out from under the blankets.
e-patient Dave